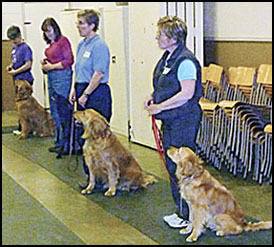 PUBLIC CLASSES
Good manners and basic obedience skills are essential to dogs becoming an appreciated part of the family. Because many of dogs' natural behaviors – barking, jumping, chewing, biting, digging – are behaviors that people consider a problem in everyday life, they need help to channel their canine energy into positive activities. We offer Public Classes to help every dog become a good canine citizen — Puppy Kindergarten for the youngest dogs, and Basic Obedience Level I and Level II for dogs of all ages.
Our training methodology incorporates a motivational approach of positive reinforcement and rewards. Our classes are structured, based on a logical "building block" approach. You'll learn how to create and reinforce good behavior. Homework sheets are goal oriented, concise and easy to follow. Your instructors are committed to helping you achieve your individual goals and are always available by telephone or e-mail should you need additional help to resolve a problem or overcome a challenge. You and your dog will have fun as you learn!
Our Public Classes Registrar can be contacted by e-mail at public.classes@ldta.ca
or by telephone (Monday to Friday 9:00 am to 5:00 pm) at 514-991-3349.
PUPPY KINDERGARTEN
BASIC OBEDIENCE LEVEL I
BASIC OBEDIENCE LEVEL II